Dear Health-Conscious Candy Lover,
There you are in the checkout line. It's been a long day. You're feeling stressed… and hungry.
Before you are rows of colorful wrappers… each one with a candy bar that's just calling your name. Chocolate… caramel… nuts… toffee… sweet peanut butter… and cookie crunch.
You know you shouldn't do it, but you reach for your favorite one.
"Why not?" you ask yourself. "It's only a few hundred calories…. and less than a buck!"
You breakdown and buy it. You take a bite…
And for a Few Short Moments All is Right in the World…
You feel euphoric…
A warm sensation comes over you as the irritations of the day melt away…
You might even feel a wave of nostalgia as you remember your favorite familiar taste from childhood.
And then it hits you.
The guilt. The regret. The sluggishness.
You know you shouldn't have eaten it. You know it's full of artificial flavors and loads of sugar… not to mention heart-stopping trans-fat.
You also know that those few moments of pleasure will erase the benefit of your workout. It definitely won't make your "love handles" any smaller.
As the saying goes – a moment on the lips… forever on the hips!
But this is much more than a saying. Scientists have found that even brief binges on junk food can have long-term consequences. Not only will it add to your waistline today… studies show that it can make you more prone to gain weight for years to come.
But here's the thing…
Candy doesn't have to be a guilty pleasure. It doesn't even have to be a once-in-a-while treat.
In fact, when it's made with "intelligent ingredients" candy can actually protect – not wreck – your health. It can even help you sculpt a lean physique… instead of puffing up your muffin top!
Imagine being able to…
Sink your teeth into a decadent, melt-in-your-mouth chocolate truffle… that's so rich in antioxidants it can actually

turn back the hands of time

(Botox in a bon-bon!)
Crunch into a square of buttery English toffee… that's jam-packed with a cell-protecting "superfat" that's been shown to

boost weight loss

(and even help prevent cancer!)
Savor "superfood" fudge that's rich in protein to

promote lean, sexy muscle

. And go for seconds… because two servings contain less sugar than a quarter of an apple!
Bite into a chewy candy bar that tastes

just like

your store-bought favorite… only this one is made with "metabolic power ingredients" that help your body

torch off unwanted fat

…
The good news is that these candy-land creations are not make-believe. They're real.
And that means you can…
Enjoy All Your Candy-Shop Favorites without a Care
About How it Will Affect Your Waistline or Your Health!
Thanks to the latest breakthroughs in nutritional science (and a little candy kitchen know-how), you can enjoy sweet treats that are so rich… so decadent… and so delicious… you'll swear they're bad for you.
I'm talking about all your familiar favorites, including…
Copycat Renditions of Popular Wrapped Candies – If you're like most of us, you love Snickers®… Twix®… Butterfinger®… Reese's Peanut Butter Cups®… Almond Joy® and Mounds®. But you also know that these treats won't do your body any favors. Well, you won't believe how easy it is to make taste-alike (and good-for-you) versions of all your childhood favorites…
Old-Fashioned Stand-Bys – We all remember the smells that used to come from Grandma's kitchen… and the delicious taste of homemade brittles, barks, fudge, turtles, pralines and buttery toffee. You'll be glad to know that you can still enjoy (and share) these traditional indulgences… guilt free!
Chocolate Shop Luxuries – The artisanal delights in fine chocolate shops can tip the scales at more than $10 an ounce. But you won't believe how easy – and inexpensive – it can be to create luxury chocolate bars, handcrafted truffles and gourmet toffees…
And best of all, you can feel great about indulging in these sweet treats.
Not only do they leave out the sugar, carbs, chemicals (and consequences) that come with most candies… but they have amazing health benefits to boot.
In fact, they're as good for you as they are delicious!
You're about to discover how to satisfy your sweet tooth… without souring your health.
But first…
Please Allow Me to Introduce Myself…
My name is Kelley Herring. And let me begin by saying that I haven't always been a "candy maker." My background is actually in biology and chemistry.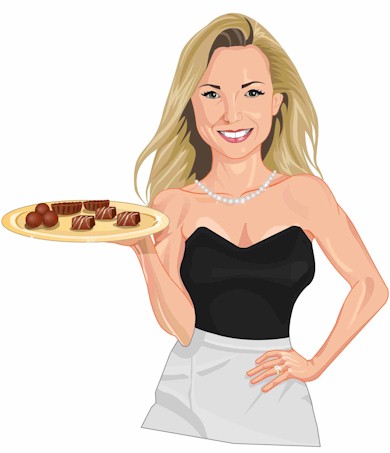 Specifically, the focus of my research has been nutritional biochemistry. For more than a decade, I've studied the amazing power of foods and nutrients to promote health and protect against disease.
But my true passions have always been in the kitchen. I love to create delicious recipes and make nourishing meals for friends and family.
I first combined my love for healthy cooking and my extensive knowledge of nutrition as the Editor-in-Chief of a McGraw Hill four-book series including: Eat to Fight Cancer, Eat to Beat Diabetes, Eat to Lower Cholesterol and Eat to Boost Fertility.
I'm also the founder of Healing Gourmet®, the world's leading provider of organic, sustainable recipes and meal plans for health and weight loss.
Our mission is to provide solutions that make being healthy a little easier…
You see, we believe that "eating healthy" doesn't have to be difficult… it doesn't have to mean sacrifice and denial… and it definitely doesn't have to taste bland and boring!
And five years ago, we proved it when…
Healing Gourmet Put Sweets Back on the Menu
For Health-Conscious Dessert Lovers
The publication of our best-selling Guilt-Free Desserts™ showed that you don't have to choose between your health and the pleasure of sweets.
In that program, we tackled the challenge of reinventing your favorite desserts, like cupcakes… soufflés… brownies… pies… muffins… cookies… and more…
We proved that with the right ingredients – and a little know-how – you can create irresistibly delicious desserts… that are good for you too.
Thousands of people in more than two dozen countries purchased Guilt-Free Desserts.
We have received hundreds of letters appreciation from readers who were thrilled to know that…
You Really Can Have Your Cake… and Be Well Too!
But we also began to hear from people asking about caramel… chocolates… candy bars… truffles… brittles… barks… and toffee.
They wanted to know if it's possible to make candy that tastes just as good those traditional favorites… but with none of the guilt or consequences.
So, we set out to prove that not only is it possible, it can be downright easy… even if you've never so much as dipped a fresh strawberry in a chocolate waterfall.
Our goal was to create decadent, melt-in-your-mouth candies. They could only include all-natural, low-glycemic ingredients. They had to be easy to make. And they had to taste extraordinary.
I'm proud to announce that we succeeded on all counts. And we put everything we learned – including 55 delicious and easy-to-make recipes – into one simple guide.
It's called, Carefree Candies: Your Guide to Healthy Homemade Indulgences.
But before I tell you how we did it – and everything you'll find inside – I want to share something about candy that might surprise you.
The Candy-Coated Connection to Your Fondest Memories…
For most of us, enjoying a candy bar isn't just about the sugar rush. It also evokes powerful memories from our childhood. The familiar smells and flavors and colors take us back to happy times when life was simple and carefree.
You know what I'm talking about…
It's smelling a waft of caramel… and being instantly transported to your mother's kitchen, with the whole family gathered around to make caramel apples…
It's the memory of nervously sucking on a mouthful of Raisinets® or Milk Duds® as you watched your first scary movie at the theater…
It's seeing the brown and orange wrapper of a Reese's Peanut Cup®… and remembering how excited you were to look inside your plastic Halloween pumpkin after a night of trick-or-treating…
It's the chocolate aroma of your local fudge shop… taking you back to Saturday afternoons with Grandpa and trips to the old-fashioned candy store…
Nostalgic memories like these can make you feel like a kid again. So, it's easy to understand why you don't want to let go of those innocent times.
But as an adult, you want to make healthy choices. You're watching your waistline. And you're well aware that…
Rolling Your Cart Down the Candy Aisle Will Put You
On the Fast Track to Disease and an Unsightly Body
The problem with most candy is that it's made with harmful ingredients.
At the top of the list are sugar and high fructose corn syrup.
Sugar might look pure and taste sweet… but the bitter truth is that it creates a metabolic disaster in your body.
As your blood sugar rises, so does insulin. This makes it virtually impossible to burn fat. That's why insulin is widely known as the "fat storage hormone."
In fact, experts believe that sugar and refined carbohydrates are the number one factor contributing to the obesity epidemic.
And you don't have to be a scientist to notice our expanding waistline. All you have to do is stroll through the shopping mall… or maybe even glance in the mirror.
But obesity is not the only risk. Sugar has been called "the sweetest poison" for the devastating toll it can take on your health when you consume too much.
And we definitely consume too much…
According to the USDA, the average American consumes 156 pounds of sugar each year!
It's been shown that the average sugar addict eliminates 15 years from their lifespan.
But sugar is not the only harmful ingredient in candy…
Frankenfood in Your Chocolate? No Thanks!
Most candy is also full of artificial colors… synthetic flavors… chemical preservatives… and GMOs.
And don't forget about trans-fat. The Institute of Medicine has stated that "there is no safe level" of this ingredient to consume. And yet hydrogenated oils are listed on the labels of nearly every popular candy.
Countless studies have shown that the ingredients in sugar-laden, store-bought candy can cause a laundry list of health problems…
It can alter your hormones and mess with your metabolism. It can impair brain function and destroy memory. It can wreak havoc on your liver… cloud your vision… disrupt digestion… lower immunity… and rapidly speed up the aging process.
It's no wonder that those who consume these ingredients experience a dramatically increased risk for heart disease and stroke… high blood pressure… Alzheimer's… arthritis… macular degeneration… cancer… and of course, diabetes.
Some people say that the solution is simple. You just need to buy "sugar-free" candies and chocolate… or substitute Splenda® in your favorite recipes.
But this is a really bad idea…
Why You Should "Just Say NO" to Chemical Candies…
If you don't mind the terrible taste, you'll find that "sugarless" candies may be even worse for your health than those made with sugar.
You see, most sugar-free sweets contain artificial sweeteners. These are not foods. They are chemicals. And they come with a long list of side effects.
The FDA has reported over 92 different
Side effects associated with aspartame alone!
Or consider the chemical sucralose, sold as Splenda®. The clever marketers at McNeil Pharmaceutical make claims that it is naturally derived because it's "made from sugar." But what they fail to mention is that three parts of the sugar molecule have been replaced by chlorine.
Studies show that these nasty chemicals can kill the friendly bacteria in your gut. They can cause fertility and pregnancy problems. They can destroy vision… cause migraine headaches… and even damage the brain and nervous system.
And while they may have zero calories, they have even been shown to disrupt metabolism… promote weight gain… and cause dangerous blood sugar spikes!
And to think that these products are heavily marketed to diabetics and people watching their weight!
But that's enough bad news.
The GREAT news is that…
You Don't Have to Choose Between Candy and Being Healthy… You Just Have To Choose
Healthy Candy

!
You shouldn't feel guilty about your desire for the taste of something sweet. This desire is "hardwired" into your DNA. For most people, trying to use willpower to overcome this instinctive urge is a losing battle.
But you don't have to, because…
There are natural, healthy alternatives to high-glycemic sugars AND artificial sweeteners.
We call these "21st Century Sweeteners" because they're new to most people. But the truth is that they've been in the human diet for millennia.
And when you know how to use (and combine) them… they taste just like sugar!
And that's not all…
You can replace the other harmful parts of candy with nutritional superfoods and "Metabolic Power Ingredients."
Instead of making you fatter and contributing to illness, these functional foods actually improve your health… protect against disease… and help you burn fat!
And you'll discover just how easy it can be in our new program…
CAREFREE CANDIES:
Your Guide to Healthy Homemade Indulgences
Healing Gourmet has used the latest advances in nutritional science to create good-for-you candies that are all natural, low glycemic, gluten free… and 100% delicious.
That means you no longer have to "say no" to the delicious taste of truffles, chocolates, pralines and toffee. And you don't have to leave behind the sweet memories of your carefree childhood either.
Inside Carefree Candies, you will find 55 of
the most sumptuous candy recipes that won't
spike your blood sugar or pack on the pounds!
You'll even find dozens of candies that are "Paleo-Diet approved" and just as many that are vegan.
But this is a LOT more than a recipe book. You'll also receive a valuable education about how to live a low-glycemic lifestyle.
And you'll discover the tips, tools and shortcuts you need to make healthy versions of all your favorite indulgences.
Now, I know what you're probably thinking… Making my own candy bars, truffles, pralines, chocolates and toffee has got to be time consuming and difficult.
I thought that too at first, but here's more great news…
The Candyman Can…
And So Can YOU!
You don't have to apprentice under Willy Wonka to turn your kitchen into a chocolate factory. And you don't need a lot of costly equipment – or a chocolate waterfall – either!
A few simple tools (about $20 worth) and inexpensive ingredients are all you need.
It's all readily available in your local grocery store, health food store or online. Of course, we reveal the "Best Brands" and we'll even provide you with an easy one-click Amazon shopping list!
And many of the recipes can be made with just a few ingredients… in 30 minutes or less!
Are you looking for healthy holiday treats? We'll show you how to whip up a melt-in-your-mouth Holiday Peppermint Bark in just 15 minutes with three simple ingredients
Do you have a hard time passing up those mini Chocolate Peanut Butter Cups wrapped in foil? No worries! You can make your own low-glycemic version in five minutes active time
Do you love Grandma's Pecan Brittle? Watch out – it packs 20 grams of sugar per ounce! But our better-for-you Buttery Pecan Brittle is sugar free, requires four ingredients and takes just 20 minutes to make!
Do you love the "cool sensation" of a Chocolate-Covered Peppermint Patty? Now you can swap the foil wrapper (and 25 grams of sugar!) for one of three 10-minute treats (with less than three grams of sugar)
You can even make luxury chocolate shop bars and barks – like White Chocolate with Pistachios and Dark Chocolate with Candied Orange Peel – in about 15 minutes for just a buck a bar!
Or make your own "chocolate box assortment" of decadent truffles – including Dark Chocolate Blueberry… "Almond Joy"… and Pistachio-Mint Chocolate. They're sugar free and take just half an hour…
These descriptions might whet your appetite… but a picture is worth a thousand words!
Your Friends & Family Will be Amazed when They Learn
Just How Good-For-You these Candies Can Be!
In a moment, I'll show you more of the decadent delights you can create with Carefree Candies…
But first, I want you to know exactly…
How You Can Turn Sinful Candy…
Into Sumptuous Superfoods!
The candy industry uses a variety of chemicals and artificial ingredients to cut costs and increase profit. This tradeoff usually comes at the expense of your health.
But that does NOT mean that the ingredients in candy have to be unhealthy…
In fact, the basic ingredients in candy are quite wholesome. They offer so many benefits to your body they're actually considered nutritional superfoods!
Consider nuts, coconut, and coconut oil…
For years, these foods were wrongfully shunned for their fat content. Now we know that they contain healthy fats that provide a variety of benefits.
Dozens of studies show that these staple ingredients
Promote fat loss, improve body composition and
Keep you feeling full longer. They even protect your heart!
Even butter is now considered a superfood (as long as it comes from animals raised on pasture).
Not only is grass-fed butter rich in vitamins and a source of omega-3 fatty acids. It also contains a fat called conjugated linoleic acid (CLA). This "superfat" has been shown to boost fat loss, combat insulin resistance and even protect against cancer.
And in Carefree Candies, we'll show you which grocery store brand has TRIPLE the amount of cell-protecting CLA than other brands (see p. 20).
But of course, these are not the only superfood ingredients in candy…
COCOA: The Candy Superfood that Guards Your Heart,
Boosts Brainpower & Keeps You Looking Young
Being addicted to sugar is definitely a bad thing.
But if you're hooked on chocolate, it's because your body knows a good thing…
Cocoa has been shown to increase the brain chemicals that promote well-being. It also contains what can only be described as a "love drug." It's a compound called phenylethylamine, and it's the very same substance produced in the brain when we experience deep feelings of love!
So, it's no wonder that there are billions of "chocoholics" worldwide. But chocolate does a lot more than taste great and lift your mood…
Organic cocoa is an excellent source of essential minerals and one of the richest sources of antioxidants on the planet. It even trumps blueberries, red wine and green tea!
The antioxidant flavonoids in chocolate have been proven to relax blood vessels, improve circulation, lower blood pressure and protect the heart and brain.
Of course, these superfood benefits are cancelled out when you eat highly processed chocolate that's full of sugar and chemical additives.
But that's not a concern, because now you can enjoy…
All the Sweetness of Sugar… Without the Sour Effects!
Sugar doesn't just add sweetness. It also plays specific roles in the candy-making process. Sugar is what makes caramel chewy and gooey… and it creates that "snap" when you bite into a piece of toffee.
The great news is that you can re-create the sweet, crunchy and chewy properties of sugar. You just have to know how to use and combine the latest all-natural and low-glycemic sweeteners in your Carefree Candies kitchen.
Now, some so-called "health experts" recommend sweeteners like agave syrup… dates… and honey.
The problem with these sweeteners is that they have high levels of fructose. In fact, some agave nectars contain up to 90% fructose. That's more than high-fructose corn syrup!!
And when it comes to your health, fructose might be the worst sugar of all…
Excess fructose is tied to high blood pressure, soaring triglycerides and fatty liver disease. Studies show that people who consume the most fructose are more likely to put on weight around the abdomen. This "visceral" fat surrounds your organs and is closely linked to heart disease and diabetes.
And the average person consumes 70 grams of the stuff per day!
That's why the primary (although not the only) sweetener we recommend in Carefree Candies is…
Erythritol: The Healthiest Sweetener
You're Probably Not Using… Yet!
Even if you've never heard of erythritol… you've definitely consumed it.
This "sugar alcohol" occurs naturally in fruits such as grapes, melons and peaches. It's also found in fermented products like wine, beer and soy sauce. It's even found in human tissues.
That means your body already "recognizes" erythritol.
It works so well in candies and desserts because it has a clean, sweet taste like sugar. It's granular and has the same bulk, so it can replace sugar cup for cup. And it can even replicate the functional properties.
But don't take my word for it. Just consider what Nora Simmons, Managing Editor of the Nutrition Business Journal, says about the first time she tried this natural sugar alternative:
"It bakes, dissolves, browns, even candies just like sugar. I had pecan pralines made with this stuff and they were just as crunchy, candied and decadent as any my friends from Louisiana have ever made for me. But these won't spike my blood sugar or give me cavities! And there's no bitter aftertaste. You can't even tell this isn't sugar."
It's no wonder erythritol is praised by pastry chefs and candy makers alike.
But the benefits of this "21st Century Sweetener" go well beyond taste and function…
The "Almost Sugar" That's
GOOD

for Diabetics!

Although it tastes like sugar, erythritol has none of the negative side effects.

It helps prevent tooth decay… it contains almost no calories… and it has a glycemic index of zero.
That means it won't contribute to weight gain and it's safe for diabetics to consume. But erythritol is not just safe… it's very beneficial!
Studies show that it acts as a powerful antioxidant. And it has a strong affinity for "hydroxyl free radicals" which can damage blood vessels – especially among those with diabetes.
The following quotes are from several recent studies, published in peer-reviewed scientific journals. These scientists say that erythritol:
"…demonstrates a

protective effect on the lining of blood vessels

."
"…may help

protect against vascular damage

."
"…

may be clinically useful

, especially to those with diabetes."
"…

can help diabetic patients

and benefit them considerably."
Another study showed that this natural sweetener reduced the production of "adhesion molecules" in the lining of arteries. In other words, it helps to keep plaque from forming.
It doesn't take a degree in medicine to know that these benefits aren't just helpful for those with diabetes and heart disease… they can help prevent these diseases from happening in the first place!
Considering these facts, there's one question you need to ask yourself:
The only drawback to erythritol is that it's about 70% as sweet as sugar.
That's why…
Carefree Candies will introduce you to three more "Body-Conscious Sweeteners"
You can combine with erythritol to ensure that your candies have the
Sticky goodness you crave and that "just-like-sugar" taste!
You might have already guessed that one of the sweeteners we recommend is stevia.
This super-sweet, South-American herb is up to 300X sweeter than sugar – but it has no calories and a glycemic index of zero. A little goes a long way, so we don't use stevia as a primary sweetener. We only recommend it to "boost" the sweetness of erythritol.
But you'll also learn about two "tropical sweeteners" that can take your candies to the next level:
A "Better-for-You" Brown Sugar –Coconut sugar is made from the evaporated sap of the coconut flower and tastes very similar to brown sugar. But unlike brown sugar – which scores a 65 on the glycemic index – coconut sugar ranks a low 35.
The Superior Substitute for Agave – Coconut nectar is a syrupy sweetener, derived from the liquid sap of coconut blossoms. Like coconut sugar, it also has a glycemic index of 35 (among the lowest of all sweeteners).
These superior low-glycemic sweeteners are also a rich source of amino acids, vitamins, phytonutrients and minerals, such as potassium and magnesium.
But perhaps their most important aspect is the low level of fructose (only about 10% in the finished product). Compare that to the 90% fructose levels found in some agave nectars!
And of course, when you use no-fructose, no-calorie and zero-glycemic erythritol as your primary sweetener, you only need a small amount to add a decadent caramel flavor!
Here's Just a Taste the Decadent Candies
You Can Make in Mere Minutes…
Of course, everything you need to know to use and combine these "top secret" ingredients is found in your copy of Healing Gourmet's brand new program, Carefree Candies.
With the education and recipes provided, you can easily make delicious candies and chocolates that taste like you used sugar – but without the ill effects.
And by popular demand, the first thing we did is to recreate all your candy-bin favorites…
We can't legally show you their logos, but I think you'll recognize most of the treats to the right. And while these candies might taste delicious, they also contain artificial ingredients, chemical preservatives, GMOs and loads of sugar…
But that doesn't mean you have to give up these guilty indulgences, because…
If there's a Candy Bar, Coating or Topping
That You Just Love – We've Probably Recreated It!
Imagine being able to enjoy treats like these… with no guilt or consequences!
Caramel-cookie Twix® bars pack 24 grams of sugar. But our healthy take on this candy-store favorite boasts the same chocolate-dipped, gooey, crispy goodness… plus eight grams of protein and less than five grams sugar (p. 65)
Buttery toffee is so delicious that some people call it "candy crack." Unfortunately, that addictively sweet taste will put you on the fast track to fatness. But with just two grams of sugar, you can enjoy our healthy Heath® Bar makeover, guilt free (p. 53)
Are you nuts for chocolate-covered coconut? The store-bought variety in the blue and white wrapper is laden with chemicals and packs 21 grams of sugar. But we put the "joy" back into this tempting combination with our all-natural, antioxidant-rich bar… with just two grams of sugar and 116 calories!
The popular chocolate and hazelnut spread, Nutella®, packs nearly 11 grams of sugar per tablespoon (not to mention artificial flavors). But you can make your own all-natural version with less than two grams of sugar in minutes! (p. 60)
They call theirs a 100 Grand® Bar. But ours is a million times better. Using all-natural, sugar-free caramel and healthy macadamias, our version has less than one gram of sugar – and it's gluten free, dairy free, vegan and Paleo! (p. 63)
Chocolate and peanut butter should be a healthy combo. But if you reach for a Reese's, you'll also get 21 grams of sugar (plus the petroleum-derived preservative TBHQ). But you can feel good about enjoying delicious nut-butter cups, made with all-natural, low glycemic ingredients!
Or how about our six-ingredient better-for-you Butterfinger® Bars? They take just half an hour to make… and come with less sugar than half an orange!
But we didn't stop at creating healthy makeovers of convenience-store confections…
Carefree Candies will also show you how to make a collection of tantalizing toffees, truffles, fudge, bars and barks… just like the ones in luxury chocolate shops.
And while Godiva's signature box of eight tiny truffles will set you back $20, these delicious treats can be made for just pennies a piece!
They won't break the bank… and they won't ruin your health or your figure either.

And that's not all of what we've put together for you!
When you order Carefree Candies, you'll also receive….
FREE BONUS: SODA FOUNTAIN FAVORITES


12 Low-Glycemic, Gluten-Free Malts
Milkshakes, Sundaes, Scoops & More!
I scream, you scream, we all scream for ICE CREAM!
It can be so hard to pass up an old-fashioned ice cream shop. But if you're watching your weight and your blood sugar, ice cream just isn't on the menu… until NOW!
Inside Soda Fountain Favorites you'll discover how easy it is to enjoy the goodness of ice cream sandwiches… floats… milkshakes… waffle cones… coffee drinks… hot-fudge sundaes… and popsicles… without dairy or sugar!
Here's a sample of the treats you'll find inside…
A thick and rich chocolate malted milkshake with as much protein as a 6 ounce ribeye steak…
A winter-spiced Gingerbread Latte with only 58 calories and less than two grams of sugar
A sugar-free "frappuccino" you can make in less than a minute for about twenty-five cents
A creamy, fizzy root beer float with just 68 calories… and less than 5 grams of sugar
Passing up that ice cream shop will be a "piece of cake" when you know that you can make healthy treats like these in just minutes…
And you'll also discover how to create fast-and-healthy makeovers of ice cream shop favorites, including Dairy Queen® Turtle Waffle Bowl Sundae… Pumpkin Pie Royal™ Shake… Reese's Peanut Butter Cup® Blizzard®… and Ben & Jerry's® Coffee Heath Bar Crunch…
And as always, you'll get a lot more than recipes.
You'll also learn how to…
Add gluten-free "malt" flavor with an energizing superfood (You'll never guess what it is!)
Give your frozen and steamy treats delicious body and texture with three grocery-store ingredients (p. 6)
Ensure that your dairy-free frozen treats don't turn out icy, by adding just two tablespoons of this ultra creamy "secret ingredient" (p. 18)
The entire Carefree Candies program – including
Soda-Fountain Favorites – is yours for a one-time payment of only $17!
What Would it be Worth to Live An Age-Defying,
Disease-Free Life… And Still Enjoy the Foods You Love?
The fact that you're reading this letter tells me that you care about the quality of food you eat.
You know that making poor choices at the grocery store won't save you money in the long run. It just means that the money you save today will end up in your doctor's bank account tomorrow.
You also know that the refined sugar, trans fat, chemical additives, artificial sweeteners and processed ingredients found in most candy and other sweets can take a costly toll on your health.
That's not a price you should be willing to pay… and thankfully you don't have to!
I didn't create the Carefree Candies program because I think you need an excuse to eat sweets… I did it because sweet treats – when they're made with intelligent ingredients – can actually benefit your health.
You see…
The "Sweets" You'll Discover in Carefree Candies are
Not Just "Not Bad For You"… They're
Really

Good For You!

They can also prevent you from making bad decisions that derail your progress.

It's a lot easier to "say no" to that candy bar at the checkout counter… or walk past that old-fashioned ice cream shop… when you know that you can make treats at home in just minutes that will satisfy your sweet tooth without souring your health.

That's why Carefree Candies is a lot more than a recipe book and educational program. It is an investment in your health – and you know that's one of the wisest investments of all!
The entire Carefree Candies program – including
Soda-Fountain Favorites – is yours for a one-time payment of only $17!
This program contains information and recipes that you simply won't find anywhere else.
And the entire package isdelivered in convenient PDF format, so you can get started right away.
All you need to do is browse, print and create!
And of course you can…
Taste Your Very Own Carefree Candies – Risk Free!
Your Satisfaction is
100% Guaranteed

…

I want you to feel good about investing in your health (and pleasure!) when you buy Carefree Candies.

That's why there is absolutely no risk when you order this program.

Here is our "tasting-is-believing" offer…
Don't Resist Your Urge To Splurge…
Now You Can Savor Your Candies & Stay Slim Too!
Sugar has been called "the sweetest poison" because there are few things in the food supply more damaging to your health.
And most candies are not just full of sugar… they're also made with processed ingredients, chemical preservatives and fake industrial fats.
Is this what you want to be eating?
Is this something you want to feed your children… or your grandchildren?
Of course, not…
But neither do you want to feel deprived – or to deprive your children – of the good feelings and nostalgia that come from being able to savor a sweet treat.
Thankfully, you don't have to!
The Carefree Candies program will show you how to
Create delicious, low-glycemic treats with superfood ingredients
That promote health and protect against disease!
Now, you can truly enjoy candy and sweets, guilt-free…
In fact, it just might make you feel like a kid again!
So, go ahead and indulge…
And be ready to impress your family and friends with a healthy experience they won't soon forget!
The entire Carefree Candies program – including
Soda-Fountain Favorites – is yours for a one-time payment of only $17!
To Your Health,
Editor & CEO
Healing Gourmet
P.S. Are you sweet enough to share? Then why not delight your friends and family with a chic (and cheap) gift of healthy candy?
Homemade candy is a wonderful gift any time of year. But for those who value their health, a gift of candy is bittersweet.
Now, you can give your loved ones (including those with special dietary needs) a gift that tastes great… and won't harm their health! So stuff their stockings… fill up a Valentine's candy box… or say Happy Birthday – with an assortment of premium chocolates and other confections that won't break the bank!
In Carefree Candies you'll discover five simple candy gifts you can make for under $5!
The entire Carefree Candies program – including
Soda-Fountain Favorites – is yours for a one-time payment of only $17!
Please Note: No physical product will be delivered. You will be given instant access to Carefree Candies and all bonuses after payment. Your credit card will be charged by Clickbank.
DISCLAIMER: This book is offered for information purposes only and is protected under freedom of speech. It is not medical advice nor should it be construed as such. Nothing in this book is intended to diagnose or treat any disease. Always work with a qualified health professional before making any changes to your diet, prescription drug use, lifestyle or exercise activates. This information is provided as-is, and the reader assumes all risks from the use, non-use or misuse of this information.
TRADEMARKS: Snickers® and Twix® are registered trademarks of Mars, Inc. Reese's®, Almond Joy®, Mounds®, York Peppermint Patty®, Payday®, Milk Duds® and Heath ® are registered trademarks of The Hershey Company. Magic Shell® is registered trademark of The J.M. Smucker Company. Nutella® and Ferrero Rocher's ® are registered trademarks of Ferrero. Butterfinger®, Toll House®, 100 Grand®, Raisinets® are registered trademarks of Nestlé. Brachs® is registered trademark of Farley's & Sathers Candy Company, Inc. Starbucks® and Frappuccino® are registered trademarks of Starbucks Corporation. Dairy Queen® and Blizzard® are registered trademarks of AM.D.Q. Corp. Fudgesicle® is registered trademark of Unilever. Splenda is a registered trademark of McNeil Pharmaceuticals. Ben & Jerry's ® is a registered trademark of Ben & Jerry's United States, Inc. Cool Whip is registered trademark of Kraft Foods Inc.IHOP is a registered trademark of IHOP IP, LLC. Healing Gourmet®, Guilt Free Desserts™ and Carefree Candies™, Better Breakfasts™, Soda Fountain Favorites™ are trademarks of Health-e Enterprises, LLC.
Contact: info AT healinggourmet DOT com